Learn more about what we will be doing in class, the programming language we will be using, prerequisites and other frequently asked questions.
What will we actually be doing in class?
The goals of this course are ambitious, and the course covers a lot of the materials taught in a typical "Programming 101" course at computer science departments around the world.
Each class will introduce several new programming concepts, and each of these concepts will be practiced in depth using exercises that the students will work on in-class.
One of the primary objectives of the course is to get you to start "thinking in code". Below is an example of an exercise we will work on in the third week of the class that practices looping (an important concept) and helps you translate real-world problems into code: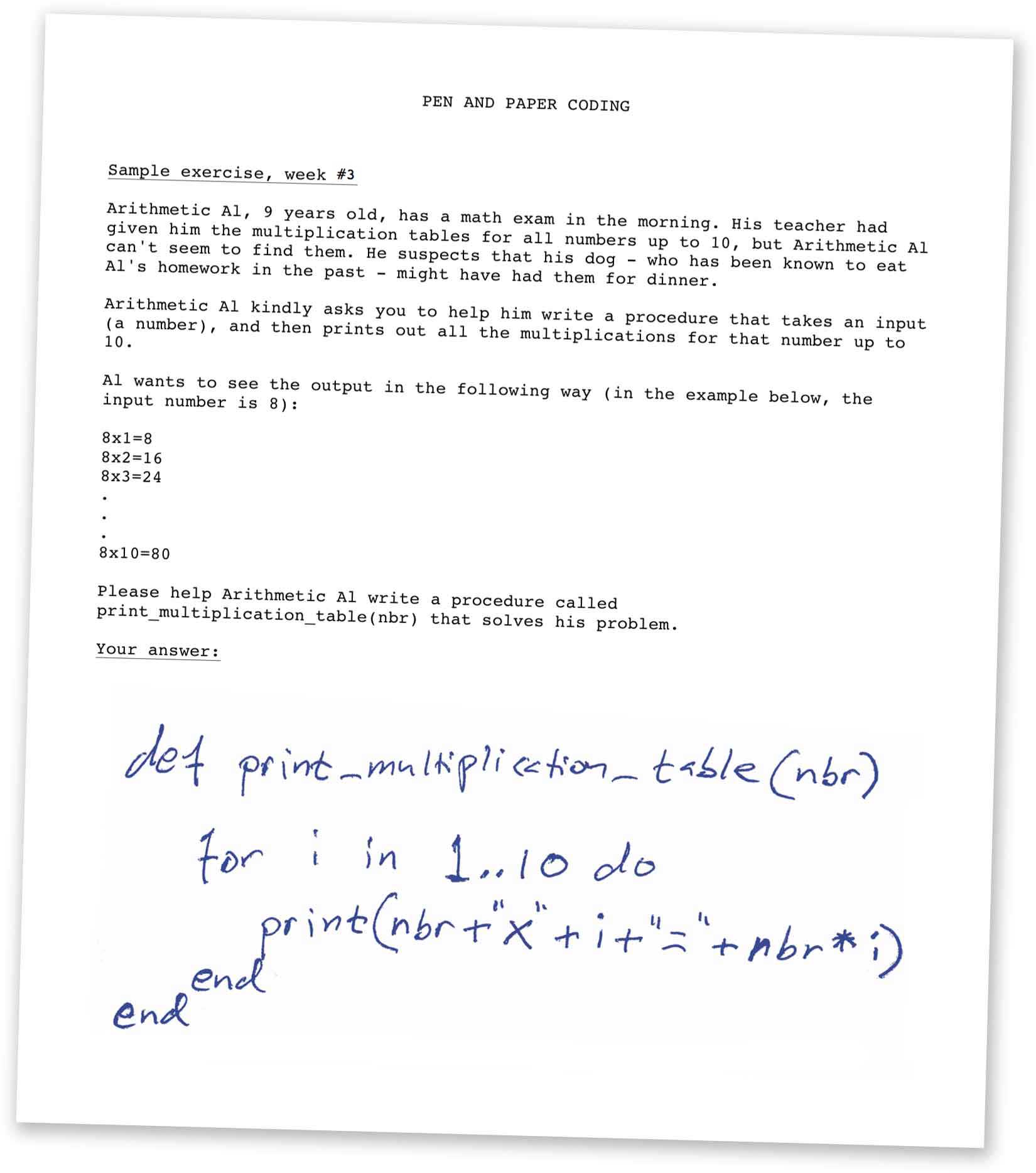 Which programming language will we be using?
We will be using a programming language that has been custom made for this introductory progamming class. Our programming language will draw heavily from lower level languages such as C, Java and Go, but will also borrow concepts from higher level languages such as Ruby. On the difficulty spectrum, it can be said to be in the middle---easy enough to not inhibit learning, but advanced enough to teach all important concepts.
Transitioning from our language to an "easier" language, such as Javascript, is very straightforward, while transitioning to a more "difficult" language, such as C, is still very doable.
If you are just starting to learn programming, the important thing is to not focus too much on what language you learn. Nearly all languages share the same common features (logic, loops, functions, etc.), and these are the features you must learn to master, rather than learning bits and pieces of syntax of a given programming language. Provided you master the core concepts of programming, learning (but not mastering!) a new language can be done in as little as a weekend.

Will I be ready to start programming a web application, an iPhone app, etc., upon completing this course?
Yes and no. While you won't have the specific knowledge to do so merely upon graduating from the course, you will have picked up the foundation from which you can transition into more specific areas, such as web or app building.

Will there be homework?
Yes. Students can expect to spend an average of 2-4 hours per week on homework.

How do I transition to programming on real computers?
There are plenty of excellent online resources and lots of literature that can help you here, all of which will make a lot more sense once you have completeted this course.
We also offer a course that is a direct continuation of the Pen and Paper Coding class, but using real computers. This course is offered two weeks after the end of the Pen and Paper Coding class. More information will come soon.

Do I need any previous experience to attend the course?
No, but please read through the following requirements:
Age: from 18 years and up
Previous computer / programming experience required: none
Fluency in English and a basic knowledge of arithmetics: required